Precision Fish Farming (PFF)
Is proposed as a means for moving commercial aquaculture from the traditional experience-based to a knowledge-based production regime as illustrated in the figure. The overarching aims of PFF are to:
improve accuracy, precision and repeatability in farming operations;
facilitate more autonomous and continuous biomass/animal monitoring;
provide more reliable decision support and;
reduce dependencies on manual labour and subjective assessments, and thus improve staff safety.
Through these means, PFF will improve animal health and welfare while increasing the productivity, yield and environmental sustainability in commercial intensive aquaculture. In figure 1 the transition from traditional fish farming to PFF is illustrated, where the inner green circle with 'experience-based reasoning' and 'manual monitoring and operation' represent the basis for the management decisions taken in traditional fish farming. The outer blue ring, illustrate the tools (models and decision support systems) and equipment (sensors and databases) that is needed to achieve PFF.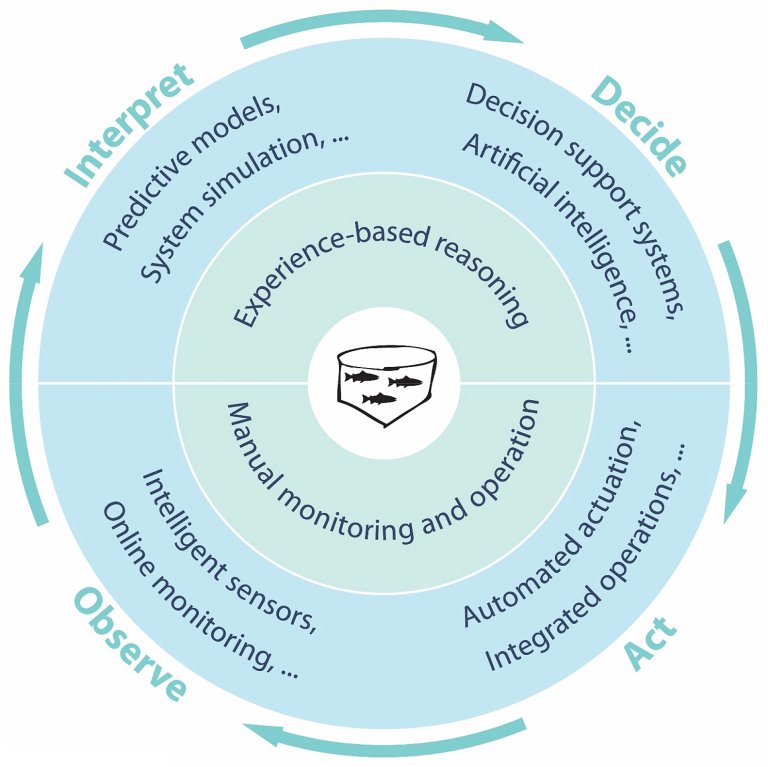 Most decisions in aquaculture production is taken under some (small or large) degree of uncertainty. Any information that can reduce this uncertainty will be beneficial from a production point of view, because this will lead to a more predictable production result. Information that the farmer is able to attain earlier is also beneficial because it provides an opportunity to react and possibly intervene against the negative effects associated with e.g. disease outbreaks. In traditional fish farming these opportunities are often missed, because the monitoring is too imprecise and/or the changes observed in the fish are too subtle. Thus, adverse factors often only show up in the end end-result of the production: The overall mortality, lower weight gain or inferior slaughter quality.