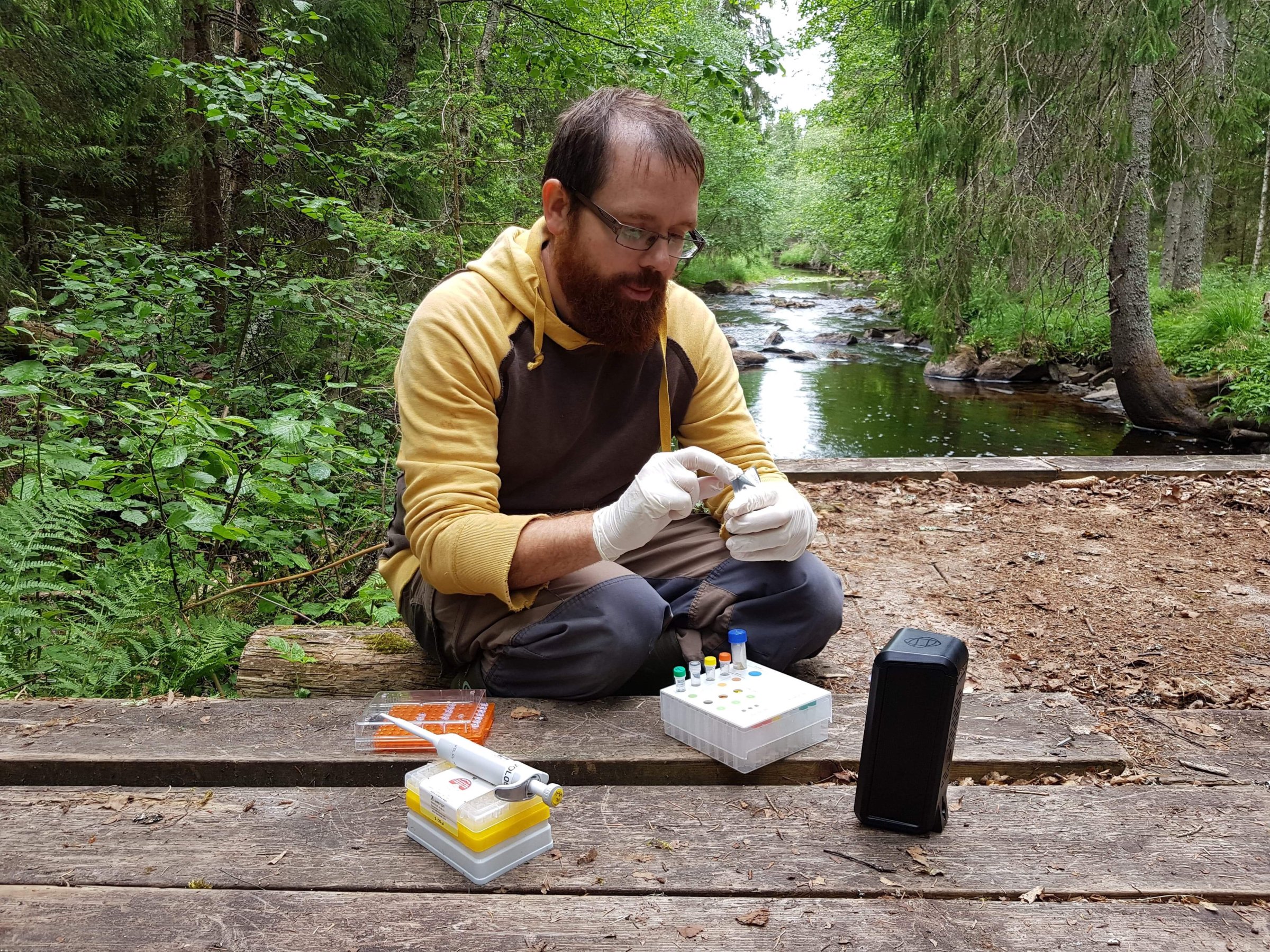 Researchers at the Norwegian Veterinary Institute (NVI) visited the Finnsrud/Billa river on the border between Sweden and Norway in collaboration with Swedish colleagues and local authorities to investigate the crayfish plague situation. They tested new field tools for direct on-site detection of environmental DNA. The analysis showed that the crayfish plague remains active on the Swedish side, while on the Norwegian side there is still no sign of the plague in the water.
DNA isolation in the field
"With the help of a DNA-isolating field equipment and a mobile-based real-time PCR machine, developed by Biomeme, we analysed water samples directly from the Finnsrud river on the Norwegian side and the Billa river on the Swedish side. On the Norwegian side, only environmental DNA from noble crayfish was detected, and live noble crayfish were observed close to the border. However, on the Swedish side, dead noble crayfish were found in the water. Our analysis detected the presence of environmental DNA both from noble crayfish and the crayfish plague pathogen Aphanomyces astaci. The same analytical results were later obtained from parallel water samples that were analysed by standard procedure in the laboratory," says David Strand, researcher at the NVI.
The NVI has, in collaboration with national and international partners, developed a new method of environmental DNA monitoring of crayfish and the crayfish plague agent Aphanomycis astaci.
"It is an important tool for tracing the spread of the pathogen in the water. The method is directly transferable to the mobile PCR, which provides answers on site within 60 minutes. The Institute has currently borrowed the device from Biomeme for comparison to the standard procedures. We would like to consider whether such tools could be useful in order to provide even faster answers directly in the field in cases of suspected spread or outbreaks," says Trude Vrålstad, Head of the Fish Health Research Group at the NVI.
The video below shows new opportunities for environmental DNA analysis directly in the field - here it is being used to examine crayfish plague and noble crayfish.